Property type:
office
|
Offer type:
lease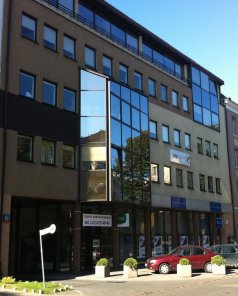 Cozy office building located near Kasprzaka street and Prymasa Tysiąclecia Avenue . The building has four floors of office, ground floor utility and cellars for storage needs. Commercial office is currently divided into cabinets, but there is the possibility of any change in the arrangement of the open space.
LOCATION
RENT €/m2/month
SERVICE CHARGE €/m2/month

Warszawa, Wola

ul. Bema Józefa 89

12.90
2.00

Cushman & Wakefield Polska Sp. z o.o.
pl. Piłsudskiego 1
00-078 Warszawa
tel. +48 22 820 20 20
Asking lease terms
Asking rent for office space
12.90 € / m2
Asking rent for retail space
80.00 € / m2
Service charge
2.00 € / m2
Surface parking rent
50.00 € / place
Underground parking rent
to be agreed
Parking ratio
1 place per 37 m2 of the leased space
Building details
Building status
existing
Total net office space
to be agreed
Building completion date
11 2013
Above-ground floors
4 (ground floor included)
Underground floors
1
Typical floor size
to be agreed
Number of surface parking spaces
40
Number of underground parking spaces
to be agreed
Available areas
Total available office area
600 m2
Total available retail area
180 m2
Minimum office space to let
180 m2
Minimum lease term
36 months
Add-on factor
6.00 %
Standard fit-out

sprinklers

smoke/heat detectors

backup power supply

raised floor

access control

suspended ceiling

telephone cabling

carpeting

computer cabling

openable windows

power cabling

fibre optic connection

switchboard

partition walls

air-conditioning

BMS
BUILDING 1
TOTAL AREA m2
SPACE AVAILABLE
LEVELS
(NLA)
m2
DESCRIPTION
FROM
3
0
0
leased
n/a
1-2
0
300
module O
from now
0
0
180
module R
from now
TOTAL
0
780
This leaflet has been prepared for information purposes only and does not constitute a binding offer or contract.